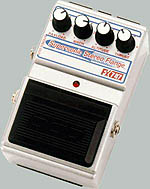 ---
User Reviews of the DOD Stereo Flanger FX747
Submitted by Paul from Lynnwood, WA (2 points) on May 8, 2013
This is a very rich sounding analog flanger. Try setting controls at 2 o'clock, 2 o'clock, 2 o'clock, 12 o'clock for a truly huge sounding chorus effect. The first knob is a wet/dry blend control. This is a very useful feature for dialing-in just the exact amount of effect that you want. With this flanger you can be subtle - if you so desire.
Good Points: Great sound. Easy to use. Durable construction. Wet/dry blend control.
Bad Points: Silly control names.
Price Paid: US$45.00
Purchased At: ebay
Submitted by Jon from New Haven, CT (80 points) on May 19, 2008
Very nice flanger. I don't really use flangers all that much, but this is the one I reach for when I do. It's got a very warm deep tone to it. It's good for short flange bursts and also sounds great in a floop. It's pretty tweakable too and can be found dirt cheap on ebay.
Good Points: Warm, good flanger. stereo out. tweakable. Can be found cheap.
Bad Points: none really, it's kind of a one trick pony, but hey, it's a flanger....
Price Paid: US$30.00
Purchased At: ebay
Submitted by D/A A/D from Halifax (398 points) on May 30, 2004
Just got this puppy... I traded it for my old (key word) trusty DOD Stereo Chorus, and it was a good trade... This thing can really whip it out, in a big way... This is the most extream flanger I have ever heard in my entire life, but best of all it can also do very subtle flanging as well. I use it towards the end of my chain, and have out-b going to a a/b box at the begining of my chain... Sounds great in a feedback loop!..
Good Points: Newer DOD construction. speeds from painfully slow to incredibly fast. Stereo. standard boss style power input. The most insain flanger ever...
Bad Points: Stupid paramiter names, like most newer DOD effects...
Price Paid: US$0.00
Purchased At: traded with a friend...